Online activation in the activation menu, after the installation is finished
It cannot be used for an upgrade from the previous Windows versions, it will not work on the "Windows 11 Pro N"
Does not bind to your Microsoft account
It cannot be reactivated/transferred to another computer
Instant delivery – 2 minutes
Activation instructions are provided in the email with the key
Permanent activation
Region: Global
Multilingual
Updates possible
An invoice will automatically generate upon placing an order.
Live chat or email support
Note: If you do not own an installation DVD or USB drive, please download the respective system setup file from the official Microsoft website, HERE.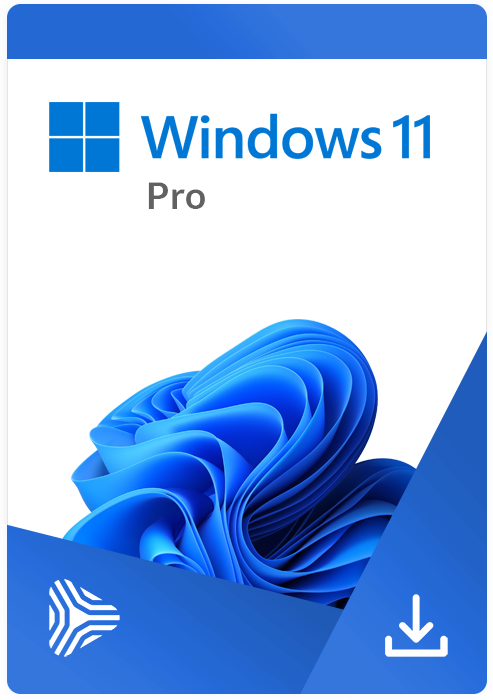 Windows 11 pro OEM/ Cannot be used as an upgrade only clean install.
Single activation / Online

Windows 11 Pro provides a modern workspace where you can creatively pursue your passions in a new environment. Renewed Start menu, redesigned taskbar, optimized system tray, improved Action Center, new Settings panel, widgets, virtual desktops – all this makes Windows 11 easy and fun to use. Windows 11 Pro has all the tools available in the Home version and additional ones, useful in large companies and used by professionals.
Windows 11 is one of the most significant Windows updates of the last decade. Modern, fresh, transparent and beautiful. From the lock screen to the Start menu. This is what the new Windows 11 is about. What you need is closer to you, simplified and powered by the cloud to serve you the applications and documents you currently need.
This product is a brand new, genuine CD Key / Serial for Microsoft Windows 11 Professional Edition.  We also offer a full legal download of the software via Microsoft, as detailed below.
HOW IT WORKS
1. First, purchase a genuine Windows 11 CD Key from our website.
2. Immediately after your payment, you will be automatically sent a digital CD Key / Serial.  You can view your unique Windows 11 CD Key on your account page.
3. Download the Windows 11 installer from the official Microsoft website, by clicking HERE.
4. Follow the instructions on the Microsoft website to download and install Windows 11
5. Once installed, enter the unique activation code you purchased from us.
6. The CD Key will authenticate with Microsoft automatically, and the activation is complete!  You now own a genuine copy of Windows 11
Microsoft Windows 11 Pro features:
BitLocker device encryption – If your device is lost or stolen, BitLocker puts everything on lockdown, so no one else can access your systems or data.
Device encryption – If you turn on device encryption, only authorized individuals will be able to access your device and data.
Find my device – Keep track of your devices – even your digital pen!
Firewall and network protection – Your Windows device comes with built-in security features to help safeguard against viruses, malware, and ransomware.
Internet protection – App & Browser control in Windows Security helps protect your device from potentially dangerous apps, files, websites, and downloads.
Parental controls and protection – Manage screen time, limit access to mature content, and control online purchases when you connect your family's Microsoft accounts.
Secure boot – Helps prevent malicious software applications and unauthorized operating systems from loading during the system start-up process.
Windows Information Protection (WIP) – Helps protect enterprise apps and data against accidental data leaks on enterprise-owned devices and personal devices that employees bring to work.
Windows Hello – Uses facial recognition, fingerprint, or PIN, for a fast, secure, and password-free way to unlock your compatible Windows devices.
Windows Security – View and manage the security and health of your device.
Microsoft Windows 11 Pro also includes business management and deployment tools
Assigned Access
Dynamic Provisioning
Enterprise State Roaming with Azure
Group Policy
Kiosk mode setup
Microsoft Store for Business
Mobile device management
Support for Active Directory
Support for Azure Active Directory
Windows Update for Business