About This Game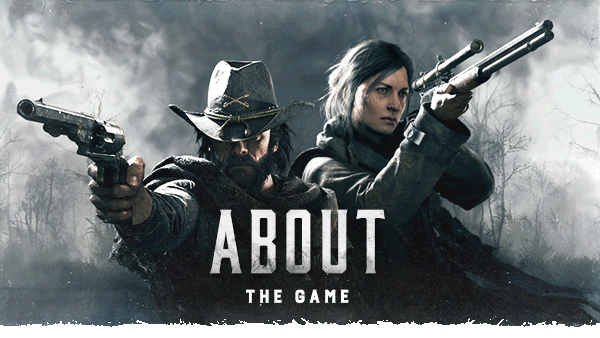 Savage, nightmarish monsters roam the Louisiana swamps, and you are part of a group of rugged bounty hunters bound to rid the world of their ghastly presence. Banish these creatures from our world, and you will be paid generously—and given the chance to buy more gruesome and powerful weapons. Fail, and death will strip you of both character and gear. Your experience, however, remains in your pool of hunters—called your Bloodline—always.
HIGH RISK, HIGH REWARD, HIGH TENSION
Hunt's competitive, match-based gameplay mixes PvP and PvE elements to create a uniquely tense experience where your life, your character, and your gear are always on the line. At the beginning of each Bounty Hunt match, up to 12 players set out to track their monstrous targets. Depending on which mode and team options you've chosen, that 12 will include a combination of solo players and teams of two or three. Once they've found and defeated one of these they will receive a bounty—and instantly become a target for every other Hunter left on the map. If you don't watch your back, you'll find a knife in it, and your last memory will be of someone else walking away with your prize. The higher the risk, the higher the reward–but a single mistake could cost you everything.
Hunt's Quick Play game mode offers a shorter match, during which up to ten individual players race to scavenge gear and find and close four rifts as they compete for a diminishing pool of bounty. First Hunter to the final rift absorbs its energy, but must survive the final count down to complete the mission—while the other Hunters attempt to take them out and take the prize for themselves. When the timer runs out the winner keeps their Hunter, while the rest perish.
PROGRESSION
Even in death, you will be able to progress among the ranks of Hunters via your Bloodline. Though one character may die, their experience will be transferred to your Bloodline, where it can be applied your other Hunters. If you make it off of the map alive, you will be able to use the money and experience you earn to kit out new Hunters and prepare for the next match. If you die, you lose everything but your experience.DARK SIGHT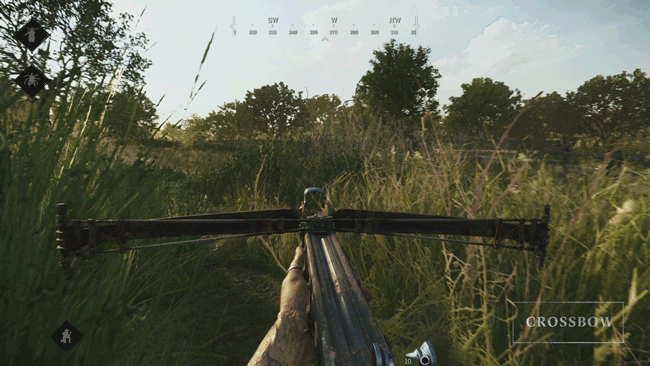 Dark Sight allows Hunters to see into the veil between worlds, making that which cannot be seen by mortal eyes visible to those who have been initiated. Use Dark Sight when you are tracking monsters, and a ghostly light will guide you toward your next target. Dark Sight also marks players carrying a bounty, making them more vulnerable to ambush while trying to escape.
Product Info
WARNING: This is a restricted product and it can be activated and played ONLY in Europe.
Multiplayer: yes
Platform: STEAM
Publisher: Crytek
Website:
Click here
Release Date: 27 August 2019Game Languages
English, French, Italian, German, Spanish – Spain, Portuguese, Russian, Simplified Chinese, Polish, Turkish
System Requirements
Minimum:
Requires a 64-bit processor and operating system
OS: Windows 7 64bit
Processor: Intel i5-4590 @ 3.3GHz (4th Generation) or AMD Ryzen 3 1200
Memory: 8 GB RAM
Graphics: NVIDIA GeForce GTX 660 TI or AMD Radeon R7 370
DirectX: Version 11
Network: Broadband Internet connection
Storage: 20 GB available space
Sound Card: DirectX compatible audio card
Additional Notes: Best experienced with headphones
Recommended:
Requires a 64-bit processor and operating system
OS: Windows 10 64bit
Processor: Intel i5-6600 @ 3.3Ghz (6th Generation) or AMD Ryzen 5 1400
Memory: 12 GB RAM
Graphics: NVIDIA GeForce GTX 970 4 GB or AMD Radeon R9 390X
DirectX: Version 11
Network: Broadband Internet connection
Storage: 20 GB available space
Sound Card: DirectX compatible audio card
Additional Notes: Best experienced with headphones
Product Activation
How to activate a Game Code in Steam
In order to add games purchased through a third party to your Steam account, you'll need the activation code from the third party retailer. You can either redeem codes on the Steam website or via the Steam desktop application.
To redeem a code in the Steam application, open Steam on your computer and from the top navigation bar, select "Games" and then "Activate a Product on Steam…" to start the product activation wizard.
To redeem a code via the Steam website instead, head to the Activate a Product on Steam page and sign in with your Steam account. Enter the product key here and go through the wizard. The website works basically the same as the Activate a Product on Steam option in the Steam client, but it can be used even if you don't have Steam installed on your current device. You could even access this website from your phone.
On the first page of the wizard, you'll be prompted to get your code ready, click "Next" when you're ready.
On the next screen agree to the terms of service by clicking "I Agree". On the next page of the activation wizard, enter your product code in the slot and click "Next". Do note that the name given to the activation codes is rarely "Steam Key" when you're buying from a different retailer and it may be labeled "Digital Activation Code", "Product Code", or some variation there of. The important part is that the retailer you purchase from notes that the key can be redeemed on Steam and that it is formatted like the examples seen below.
On the last screen, you'll see a confirmation of the game title as well as a button that allows you to print a receipt of the game activation transaction. The only difference between what you see on the screen and what is printed out is that the printout includes your Steam username and a confirmation code in addition to the game title. Click finish when you're done reviewing and/or printing the information on the final screen.
After you exit the activation wizard, you'll see the game you just activated in your library, like so:
Simply click on the "Install" button, like you would any other Steam game, to download the game and get started playing it.
Gameplay Video