City
Los Santos, Grand Theft Auto 5's fictionalized Los Angeles, represents the largest city in GTA history. Rockstar Games organized field trips and tapped census data to accurately reproduce Los Angeles in video game form. In fact, the city is so large that you'll need more than one character to quickly jump between sections.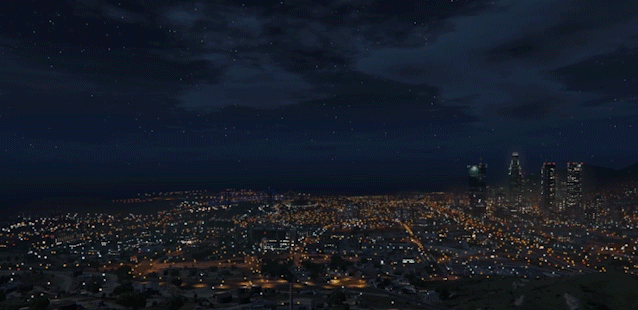 Characters
Grand Theft Auto V is the first game in the series to features multiple lead characters, and it fundamentally changes how you play the game. Rockstar Games designed the game so that Michael (bank robber), Franklin (street-level crook/repo-man), and Patrick (druggie and Michael's former colleague) each have unique skills to help you complete a job. You can jump from character to character at any time to complete a mission or just explore the massive game world.
World
Grand Theft Auto titles are known for their huge, interactive worlds and the latest series entry continues in that tradition. You can play golf, practice your backhand, parachute over the city, perform yoga stretches, go for leisurely strolls, and much, much more. Or commit a crime, of course.
Multiplayer
Grand Theft Auto Online, GTA V's ambitious multiplayer mode, lets virtual hooligans cause chaos with other gamers. There are over 500 missions and numerous leisure activities that players can explore in a living, open world. The goal is to stack paper, increase your influence, and collect the finer things in life.
Radio
Half the fun of speeding away in a stolen ride is tuning into a radio station. Grand Theft Auto V features over a dozen talk and music stations that often put real-world over-the-air radio to shame. Over 240 licensed tracks are in the game from the likes of N.W.A., Outkast, and A$AP Rocky. Celebrities such as Kenny Loggins, Pam Grier, and Bootsy Collins will host the themed stations.
Product Info
WARNING: This is a restricted product and it can be activated and played ONLY in Europe.
Multiplayer: Yes
Platform: STEAM
Publisher: Rockstar games
Website:
Click here
Release Date: 17 Sept, 2013Game Languages
English*, French*, Italian*, German*, Spanish*, Arabic, Portuguese-Brazil, Polish, Traditional Chinese, Japanese*, Korean, Russian
System Requirements
Minimum:
CPU: Intel Core 2 Quad CPU Q6600 @ 2.40GHz (4 CPUs) / AMD Phenom 9850 Quad-Core Processor (4 CPUs) @ 2.5GHz
CPU SPEED: Info
RAM: 4 GB
OS: Windows 10 64 Bit, Windows 8.1 64 Bit, Windows 8 64 Bit, Windows 7 64 Bit Service Pack 1, Windows Vista 64 Bit Service Pack 2*
VIDEO CARD: NVIDIA 9800 GT 1GB / AMD HD 4870 1GB (DX 10, 10.1, 11)
PIXEL SHADER: 4.0
VERTEX SHADER: 4.0
SOUND CARD: 100% DirectX 10 compatible
FREE DISK SPACE: 72 GB
DEDICATED VIDEO RAM: 1 GB
Recommended:
CPU: Intel Core i5 3470 @ 3.2GHz (4 CPUs) / AMD X8 FX-8350 @ 4GHz (8 CPUs)
CPU SPEED: Info
RAM: 8 GB
OS: Windows 10 64 Bit, Windows 8.1 64Bit, Windows 8 64Bit, Windows 7 64 Bit Service Pack 1
VIDEO CARD: NVIDIA GTX 660 2GB / AMD HD 7870 2GB
PIXEL SHADER: 5.0
VERTEX SHADER: 5.0
SOUND CARD: 100% DirectX 10 compatible
FREE DISK SPACE: 72 GB
DEDICATED VIDEO RAM: 2 GB
Product Activation
How to activate a Game Code in Steam
In order to add games purchased through a third party to your Steam account, you'll need the activation code from the third party retailer. You can either redeem codes on the Steam website or via the Steam desktop application.
To redeem a code in the Steam application, open Steam on your computer and from the top navigation bar, select "Games" and then "Activate a Product on Steam…" to start the product activation wizard.
To redeem a code via the Steam website instead, head to the Activate a Product on Steam page and sign in with your Steam account. Enter the product key here and go through the wizard. The website works basically the same as the Activate a Product on Steam option in the Steam client, but it can be used even if you don't have Steam installed on your current device. You could even access this website from your phone.
On the first page of the wizard, you'll be prompted to get your code ready, click "Next" when you're ready.
On the next screen agree to the terms of service by clicking "I Agree". On the next page of the activation wizard, enter your product code in the slot and click "Next". Do note that the name given to the activation codes is rarely "Steam Key" when you're buying from a different retailer and it may be labeled "Digital Activation Code", "Product Code", or some variation there of. The important part is that the retailer you purchase from notes that the key can be redeemed on Steam and that it is formatted like the examples seen below.
On the last screen, you'll see a confirmation of the game title as well as a button that allows you to print a receipt of the game activation transaction. The only difference between what you see on the screen and what is printed out is that the printout includes your Steam username and a confirmation code in addition to the game title. Click finish when you're done reviewing and/or printing the information on the final screen.
After you exit the activation wizard, you'll see the game you just activated in your library, like so:
Simply click on the "Install" button, like you would any other Steam game, to download the game and get started playing it.
Gameplay Video